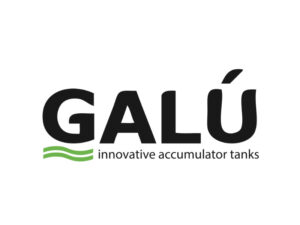 Galu tanks are manufactured in Ireland and are the product of a new venture combining a strong heritage of Finnish and Irish heat storage technologies. These are premium quality products offering excellent heat loss performance and the best quality available in the marketplace.
Always forward thinking, the Galu brand has harnessed cutting edge techniques to provide an ecological product, offering high density 100mm insulation that boasts a GWP (Global Warming Potential) of 1, meaning that these tanks are unique in their suitability for sale into the new build industry, surpassing all new build regulations for closed-cell spray polyurethane and providing an exciting new prospect for installers.
Features in brief:
High end product with clean lines and improved aesthetic.
Higher density insulation. Insulation has a Global Warming Potential (GWP) of 1. Can be used in new builds in the UK not just retrofits.
Extremely flexible manufacturing/design abilities.
Short lead times with competitive delivery rates direct to site.
Longer coils / heat exchangers, as standard.
Ports more installer friendly being flush with outer skin (coils protruding through skin 20mm)
Adjustable levelling feet.
Better packaged for less potential transport damages.
Single haulier used who are familiar with the product, minimising handling errors.
DHW thermostatic mixing / diverting valve come standard with solar models.
Galu also offer bespoke manufacture with flexibility on ports and hatches, even colours, speak with us for any bespoke requirements.