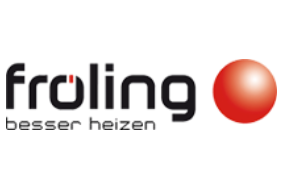 The name Froling has been associated with the most modern and efficient biomass heating systems for more than 50 years. These proven and tested boilers offer very high levels of efficiency (up to 95%), low emissions, ease of use and low operating costs.
The Froling range is expansive, covering every application – from domestic high efficiency log and pellet boilers, to industrial wood chip boilers which can handle out of specification materials and moisture levels, as well as, or better than, those of competing brands, combatting poor efficiency and reducing the risk of blockages.
For installers, the key advantages of Froling are:
competitively priced in the premium marketplace
ease of installation
robust and reliable
advanced and market leading control system offering a unique advantage to installers who want to achieve more than a basic 'boiler/buffer' arrangement
a full range of wood chip, pellet and log boilers from 7kW to 1mW
all products MCS certified where applicable and all pass the emission required by the RHI scheme, so are perfect for replacing failed installations.
For further information on the Froling boiler range, please download the following product brochures, or look through the overview of ranges below.